Another season has finished and it's time for a quick round-up of how things finished at the top and bottom of the table.
As we already knew, Manchester United are
Premier League
champions once again with Chelsea finishing in second place and Manchester City coming in third. Arsenal, who only a few weeks ago were challenging for the title, fell into fourth place winning only one of their last six Premier League games. Things need to change at the Emirates for Arsenal to recapture the glory of the late 90s and early 00s. Tottenham Hotspur edged out Liverpool to finish fifth and qualify for another year of European football, albeit the Europa League and not the Champion`s League.
The other big story at the end of the season concerns the teams that have been relegated. Falling at the last hurdle this year were
Birmingham
and
Blackpool
who join
West Ham
in preparation for the Championship.
Blackpool
had started the season so well and were high flyers in December, looking at possible European qualification. However,
as I predicted
, those good times did not last long and Blackpool started to plummet down the table. Their gung-ho style of football was never going to work in the long run with the squad they have.
Birmingham
fans will be looking back on a bittersweet season that saw them capture the Carling Cup (defeating Arsenal in the process) and get relegated. I think if you ask most
Birmingham
fans, they would trade the Cup for
Premier League
status but at least they have something to smile about.
I had predicted
that Birmingham would struggle to stay up despite their Cup success because the squad was playing like a team who believed it had done its job after winning a major trophy. They simply failed to find the same form in the Premier League as they had in the Carling Cup.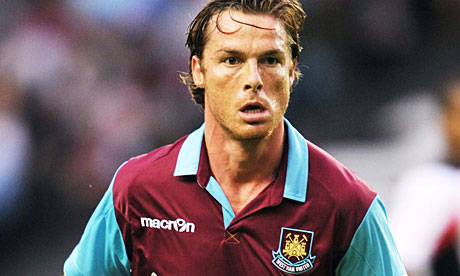 Scott Parker will be on the move
West Ham were relegated a week or so ago and it has been a long time coming for the
Hammers
. They have been on the verge of relegation since they came back to the Premier League a few years ago. Hammers' captain, Scott Parker, will be highly sought after over the summer so it should be interesting to see who b
ags him. Arsenal could really do with a player like Parker who can keep running hard for 90 minutes and put in a strong tackle.
Come back in a couple of weeks to find out who has been promoted to the Premiership along with QPR and Norwich and how the new teams stack up.