Another Saturday in the
Premiership
has come and gone and there were, as there always are, a few important results to discuss.
Man Utd's 2-1 win over rivals Man City (thanks to a contender for goal of the season from
Wayne Rooney
) was a huge relief for Sir Alex after last weekend's slip up at Wolves. Man City would have managed to get themselves back in the race for the title if they had won today, instead they are now firmly out of it. Only Arsenal are left to try and catch the Red Devils this season and that might be too difficult a task as this is typically the part of the season where Man Utd get stronger and stronger and Arsenal tend to fade away.
The Gunners, however, did their title bid no harm today by overcoming last week's conquerors of Fergie's men at the Emirates Stadium. Wolves, for all their endeavour, never looked like scoring today and so Arsenal keep the pressure on United at the top of the table courtesy of two
Robin Van Persie
goals.
Newcastle and Blackburn failed to repeat their goalscoring (and goal-conceding) acts from last week and played out a 0-0 draw. Newcastle had most of the pressure and will probably consider this game two points dropped, although both managers will have been relieved to get a clean sheet.
In a far more entertaining game, West Ham managed a Toon style come-back against West Brom. After going in at half-time 3-0 down and looking like they would rather be at home than on the pitch, West Ham somehow managed to get themselves going in the second half and fought for a hard-earned draw.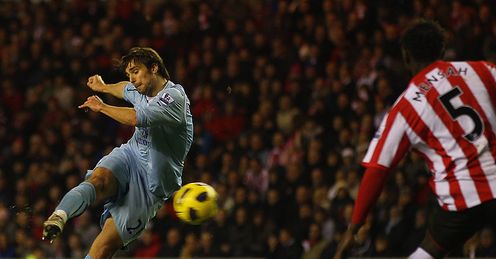 Kranjcar "kranks" in another one.
Tottenham march on thanks to yet another wonder goal from
Niko Kranjcar
and Birmingham battled to a 1-0 victory in a true clash of the giants against Stoke. Despite
Miereles
getting his fifth goal in six games, Liverpool could only manage a draw as Wigan halted the charge of The Reds. Miereles is getting better and better with every game and looks a class act in that supporting role.
A quick mention should go to
Jean Makoun
who should be docked wages for idiocy after his inexplicable two-footed tackle today. He is lucky Villa held on for the 1-1 draw after his dismissal. I can't understand players sometimes. If you KNOW that going in two-footed will result in you getting sent off...then why do it? It brings no advantage to a tackle, it could seriously injure the player on the receiving end and you will be sent for an early bath, thereby making the game more difficult for your team so, I say again, why?
Full results: